The wines of California
and visiting California vineyards
California - Vineyard of the Americas
Although wine is produced in a number of states in the USA, no other state comes close to matching California, which on its own accounts for 87% of US wine production. On the world scale, California, if it were an independent nation, would be the world's fourth wine-producing country, beaten only by Italy, Spain, and France (in that order). In terms of quantity, California produced 2.57 million metric tonnes (680.27 million gallons) of wine in 2016, out of a total US production of about 3.3 million tonnes. Wine production in France in the same year was 4.29 million tonnes.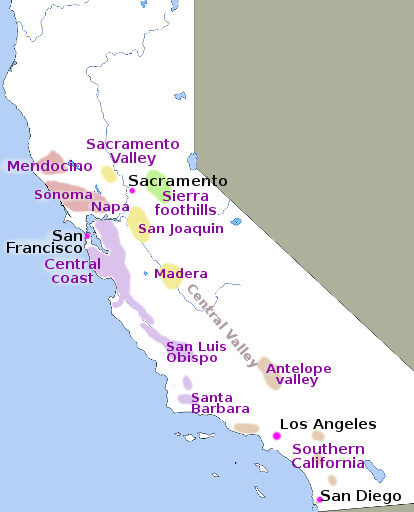 Even before California joined the United States,
colonists had discovered that the area had good potential for wine making. Adequate rain, lots of sunshine, and plenty of warmth ; these were just the conditions prevailing in the best wine-growing areas of Spain and most of Mediterranean Europe. There was no reason why California could not produce wines to match the best and finest of wines produced in the Old Continent.
For a long time, however, it did not. Until the 1960s, California wines were not all that well-known even in the USA! Wine coming out of California tended to be ordinary-quality table wine, nothing more. Then some enterprising wine producers decided that they ought to be able to do much better than that, and since then California wine production has developed massively in volume and, in many areas, in quality too.
Nowadays California's vineyards are divided into five areas. The
North Coast area
, including Mendocino, Sonoma and the Napa Valley is the area that produces many of the most prestigious wines. The
Sierra foothills
is an area that produces similar wines. Two central wine growing areas are the
Inland Valleys
area, covering the Central Valley areas of California, and the
Central Coast
area extending from the Bay Area down to Santa Barbara. With its large fertile spaces, the Central Valley is the Languedoc or la Mancha of California wine production, producing some three quarters of all the wine produced in the state. In the south lie the smaller vineyards of
Southern California
, best known for their Provençal and Italian-style wines.
. The most prestigious wine producing areas in California are found to the North Coast vineyard area, in the
Sonoma
and
Napa Valley
AVAs.
AVA
's are designated "American Viticultural Areas", a geographic label corresponding to AOP (Appellation d'Origine Protégée, formerly Appéllation contrôlée) in France, or Denominación de Origen in Spain.
Napa Valley winery hotels
There are not a lot of wineries that have their own onsite hotels. A few small wineries have a cottage or guest rooms for a small number of visitors; few have much more.
On the other hand, there are plenty of hotels in the Napa Valley catering for visitors to local wineries - many with gourmet restaurants. Check out best rates.....
Napa Valley
apartments, hotels, and B&Bs - a big choice from
Booking.com
. Best rates, free cancellation options, no booking fees.
Napa Valley
accommodation from
Hotels.com
– Best online rates, pay now or later on most rooms, free cancellation on most rooms
With their balance between warm sunshine and cooler periods, when the winds blow in off the Pacific Ocean, California's coastal areas are eminently suitable for production of wine from the grape varieties used in France, notably Pinot Noir, Cabernet-Sauvignon and Chardonnay.
Vineyards in areas south of San Francisco tend to be more into volume production, which does not mean they do not also produce some very good wines. With regard to mass market wines, the larger wine producers in southern California were leaders in the modern tradition of producing branded wines with constant quality, unlike the more individual top-of-the-range wines from smaller vineyards, which tend to very in quality from year to year.
The biggest California wine producer, and the world's biggest privately-owned wine producer, is
Gallo
, based in Modesto, in the San Joaquin Valley.
A classic example of California wine branding and blending technique is Meomi wine, blended from wines produced in the Sonoma, Monterey and Santa Barbara viticultural areas. The result is a standard quality wine that, according to the producers, is "full-flavored, opulent yet exceptionally smooth."
California winery visits
A visit to the winery, and the opportunity to taste wines straight from the cellar, is part and parcel of any wine tourism; and naturally there are large numbers of California wineries that welcome visitors for wine tasting and cellar visits, specially in the wine growing areas to the north of San Francisco. While wineries can be visited in all California wine growing areas, it is the areas of Napa Valley and Sonoma that are most renowned for their winery visits.
One of the most popular wineries to visit is
Castello Di Amorosa,
the
V.Sattui
vineyard at St. Helena, in the Napa Valley.... and no wonder! This must be the only full reproduction in the USA of a 13th century Italian castle! The winery is open 7/7, and reservations are not needed.
Website
A less well-known Napa Valley winery is the
Hess Winery
, a historic winery dating from the late 19th century, that includes a museum. Hess was one of the first California wineries to develop sustainable winegrowing practices.
Website
For the best California Burgundies, a reputed winery is the Peay Vineyard, in Cloverdale, just off Highway 101 in the Sonoma wine growing area. Specialising in French grape varieties, Pinot noir, Syrah and Chardonnay, this however is a small vineyard, and visits are by appointment except on the occasional open days.
Website
A bigger Burgundy-style vineyard, offering visits and wine tasting, is the Chateau Montelena vineyard at Calistoga, in the Napa Valley. This winery is known for its stone château built in 1888, originally a wine-ageing facility. Château Montelana uses organic farming methods to produce small volumes of top-quality wine, in particular Cabernet-Sauvignon reds and Sauvignon whites.
Website