About-California.com
- an essential introduction
Conduire en Californie - En français

About-California.com
A beginner's guide to discovering California
Driving tips and rules for California
The minimum age

for driving in California is 18, though young people from age 16 may drive with a provisional licence, under conditions.

Speed limits

: In urban areas the speed limit is 25 mph / 40 km/h, and on other roads it is generally 55 mph or 90 km/h. On multi-lane highways, including freeways and interstates, the general speed limit is 65 mph or 105 km/h .

Drivers licence

: visitors from outside the USA can generally drive in California using their foreign driver's license, as long as their US tourist visa is valid (normally 3 months).

Seatbelts

: Drivers and all passengers in a vehicle must wear a seatbelt at all times.

Mobile phones

:The use of mobile phones for voice communication is illegal, except for fully hands-free devices.

Text messages

: It is illegal to write, send or read text messages while driving.

Drinking and driving

: It is illegal to drive with more than 0.08% of alcohol in the blood – which is more or less equivalent to the maximum permitted levels of blood alcohol in Australia, Canada and most of the European Union.
Cars are to California as skates are to an ice-rink
, i.e. pretty well essential for anyone who wants to get around.
Visitors from other parts of the US will find the gas prices in California are high ; visitors from Europe will find them cheap, though not as cheap as in other parts of the USA. It all depends on what you are used to. But regardless of the price of gas in California, California is a state where for most tourists, except those visiting California by bus, a car is essential. Virtually the only tourist destination in California that can be visited without a car is San Francisco, a city with a compact central area where public transport is available in the form of the fabled historic streetcars.
Visiting LA ?
A car (or dependency on taxis) is a must ! To drive from Burbank, in the north of LA, to Huntington Beach in the south, takes over an hour on the Interstate; and journey times from the coast to the eastern suburbs of LA take quite a bit longer than that. And apart from Hollywood stars and others who have the use of a private helicopter, everyone uses a car – which is why LA has so many multi-lane highways criss-crossing the urban area ; and why it has so many traffic jams, and often so much smog. Traveling between LA's major sites and tourist attractions - LAX airport, downtown, Hollywood, Universal Studios, Disneyland, Venice Beach, Long Beach, and other spots, is a process that takes time, and requires a car.
Visiting California's fabulous natural heritage sites also requires a car, or a guided tour.
California scenic routes
But driving in California is not just driving on a multi-lane interstate with cars to the left and cars to the right. California also has two or three of the best road-trip routes in the USA, roads where traffic moves along at a leisurely, even very leisurely, rate, and visitors and tourists take time to admire the scenery.
For those seeking a trip back in time, California is the destination end of historic
Route 66
, the
Mother Road,
that can still be followed for many miles through the California back country. Or up there in the hills, there are some amazing
ghost towns
to be discovered, like
Bodie
, once (for a few years) one of the wildest and most thriving gold-mining towns in the West, in the days when the West was wild.
For those more interested in fabulous and incredible landscapes, a trip north or south from San Francisco on the twisting and turning California
Highway 1
, which hugs the coastline all the way from San Luis Obispo north of LA, to Leggett, 150 miles north of San Francisco, is a must. So too are the unique landscapes of the Mojave Desert, including Death Valley and the intriguing Joshua Tree park, with its unique vegetation.
California Highway 1
Hôtels throughout California
A great selection at best rates from Booking.com

:

Monterey area
San Francisco
Yosemite
State-wide
There are few routes to drive in the USA that are more scenic or picturesque than California's coast-hugging Highway One. Highway 1 follows the coast from Rockport in the north, via San Francisco and Monterey, to San Luis Obispo (near LA) in the south. Part of Highway 1 between LA and San Francisco is known as the Cabrillo Highway.
The full length of Highway 1 is over 650 miles (over 1050 km), so driving the whole length is something that will take two to four days, depending on how much one stops to admire the views, walk on the beaches, visit the sights like the Monterey Aquarium, or just stop off for quality leisure time. Highway 1 is not a road for driving fast on; it is a single two-lane highway that twists and turns along the coastline – and definitely not the road to take if you want to get as fast as possible from LA to San Francisco.
Highway 101 is the historic and furthest west of the north-south highways in the USA, running from near Seattle in the north, to LA in the south. Through the states of Washington and Oregon, the 101 is a small road that twists and turns as it follows the coastline. It continues to do so in the far north of California, from the Oregon border as far as Eureka, and again between San Luis Obispo and LA, offering fine views. In California the101 varies in nature between divided highway and single lane highway. Between Rockport and San Luis Obispo, while Highway 1 follows the coast, the 101 runs inland; to the north and the south of San Francisco, it is a major highway and indeed it is the principal northen route out of San Francisco, being the highway that crosses the Golden Gate bridge.
US Route 66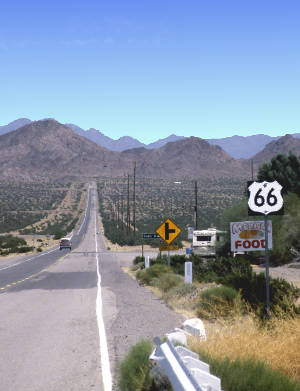 Highway 66
Highway 66, the fabled "Mother road", is part of American history. Opened in the 1930s, it was the first designated highway linking Chicago, the hub of the midwest, with the California coast at Los Angeles. For many years now, most of the historic Route 66 has been decommissioned; traffic entering California from the east now mostly arrives on one of the transcontinental interstates I10, I40 or I70; but a few heritage-minded visitors still enter the state each year on what used to be US Route 66. Today's Interstate 40 more or less follows the old Route 66 across California from Needles, on the border with Arizona, to Santa Monica on the coast; while it's hard, if not impossible to imagine yourself back in time anywhere west of San Bernadino, from San Bernadino eastwards, leave Interstate 15 at Victorville and you can then follow the historic route, a designated historic trail, as far as the Arizona border - and beyond. Today, the surviving parts of old Route 66 probably have as much, or as little, traffic on them as they did back in the 1930s, when they were no more than a gritted track. The route takes you through places with evocative names such as Bagdad (little more than a palm tree standing beside the railroad tracks) and Siberia, reminders of how this part of the California desert can, even today, be scorchingly hot in summer and bitterly cold in winter.
Plenty of historic motels, garages and other memorabilia are there to remind the intrepid visitor of the historic legacy of Route 66, and its huge place in the history of California and the West in general.
These are just three of California's many scenic highways. There are plenty more, notably in the mountains and deserts of eastern California, in areas like Yosemite and Death Valley. With regard to desert routes, visitors are reminded that it is essential to take plenty of water with you in the car when driving in desert areas, specially in summer.
Toll routes in California
Most freeways and roads in California are toll-free. However there are a few short toll sections, notably for bridges. There are a number of toll routes in Orange county, south of Los Angeles, and there are tolls on bridges such as the Golden Gate bridge (toll only for southbound traffic) and bridges crossing San Francisco Bay (only westbound). For the San Francisco bridges, the principle is therefore simple. You pay to enter San Francisco - between $5 and $7.25 depending on the bridge; it's free to leave.
Orange County can be crossed toll-free on the I-5.